Matt Siber is a gallery artist who mainly focuses in photography, digital art, video, sculpture and installation. Previously, he use to be a freelance commercial photographer but changed his focus. His work is displayed in the Art Institute of Chicago and the Museum of Contemporary Photography as well as internationally–Spain and Munich. Not only is he a working artist, but he also teaches beginning and advanced digital imaging at Columbia College Chicago and The School of the Art Institute of Chicago.
Siber's work addresses issues that deal with popular media, visual culture and mass communication. He is influenced by his concern with the powers of persuasion and influence on the public through mass media and advertising-such as propaganda. He is inspired by the effects elements in a picture have compared to the landscape and objects within it. Over time, Siber's work has progressed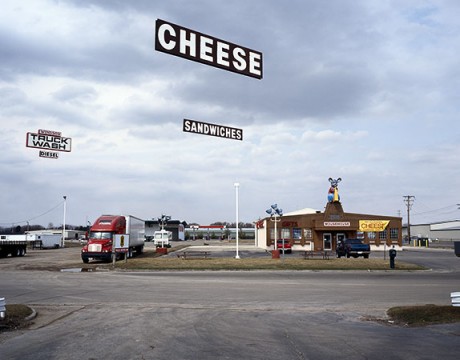 This image left me questioning why the signs were so spaced out and detached from the post. The background seems so ordinary, why would he chose a location like that? Is it because at truck fuel stations, they sell cheap, but good, food? The clouds make the picture seem gloomy and eerie, like something is going to happen.
I find these images interesting because the poles that attach the signs to the ground are missing. In addition, the picture on the right's company name is taken off. I am confused as to why the floating images are a common trend with Matt Siber.
This is an example of Siber's work in 2015. It is more structured and 3D rather than digital images. I think this still relates to the digital art he created above where the illuminating light is the floating objects in the sky.
This is a picture of Siber's galleries in 2015 where this photographs were taken and printed on 8.5 ft. columns. I think this photo resembles the digital art shown above and the different textures different poles/columns can have.
Sources: